Schedule one-time workshops or recurring classes specialized for you group! I can cater to scout troops, birthday parties, ladies night in, etc!  You provide the space; I bring the materials! Or I can come to your studio to guide you in your own work with your own materials. These classes can also supplement your teen summer or after school programs.
Email Emily at EEArtEd @ gmail . com for scheduling and prices.
PAINTING / PRINTMAKING / COLLAGE / MIXED MEDIA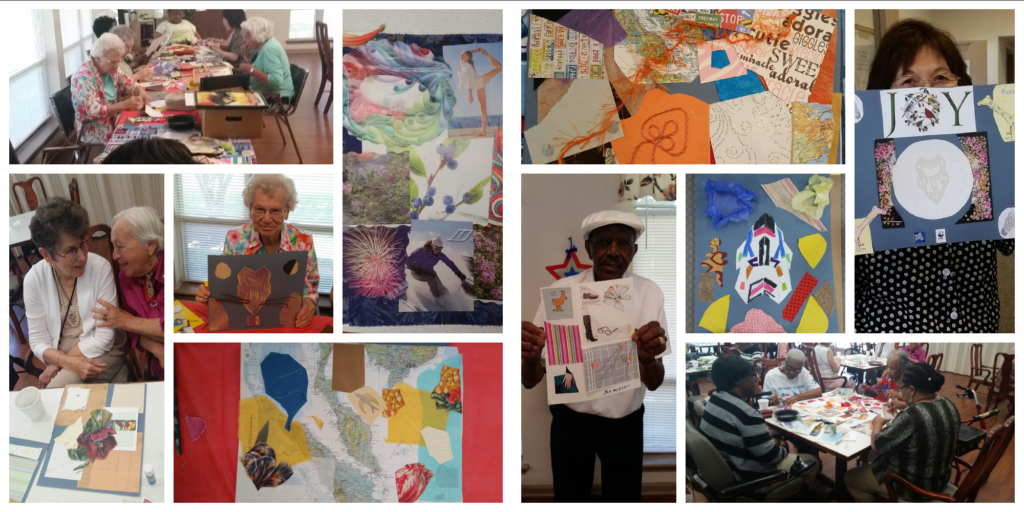 ABSTRACT EXPRESSIONISM
Explore the non-representational side of painting in a fun and experimental learning environment. Classes begin with an introduction to the myriad styles and methods of abstract artists through the ages. Students will use these artists as inspiration and develop their own intuitive painting styles to create new and original paintings. Mixed media and experimental painting methods will be explored to create rich texture and visual interest. Please bring a sketchbook to this class. All other materials are provided.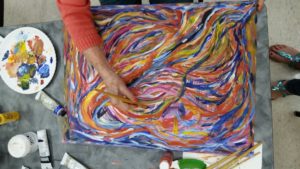 PAINTING WITH TEXTURE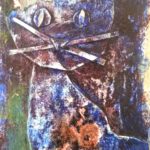 Experiment with acrylic and mixed media techniques. Use 6"x6" papers and boards to conduct tests using various materials and acrylic mediums. This class emphasizes process over product. Embed found objects, make collographs (collages you can print), and learn photocopy transfer techniques. Work on paper, cardboard, and wood panels.
MIXED MEDIA PRINTMAKING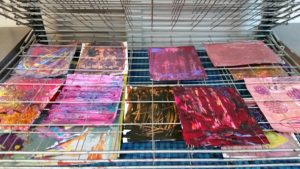 Students with any level of printmaking will explore many unique methods of the printmaking process. The course will allow students to learn to print with collographs, styroprints, nature prints, packing prints, screen prints and plexi-glass monoprints. Instruction will allow for students to make test prints using these methods and then compose and build their own rich, layered prints. Drawing skills are not required. Students are encouraged to bring books, magazines, photos and drawings for inspiration each week.
CHOOSING PAINT WISELY: WHAT'S IN YOUR BOX?
Do you have paint that you never use? Are you overwhelmed by art supply stores? Take this short class for a crash course in paint and a translation of the pigment labeling system. Learn about pigment behaviors, grades and brands of acrylic paint, as well as what to buy where to get the most out of your art supply budget. Students will create a color journal to keep notes for future reference.
TIE DYE WITH ACRYLICS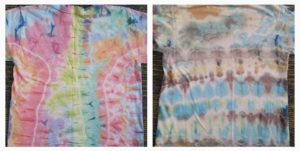 Create one-of-kind fabrics using various tying, folding, dripping,dunking, and painting techniques. Bring in white or light or stained clothing or fabrics and give a new life to them. Use various ties and folds to manipulate and control the pigments. Create unique colors and visual textures. This class is for the bold, as you never know how your creations will turn out. Great fodder for quilters!
FAMILY TREES: HEIRLOOM MIXED MEDIA GENEALOGY COLLAGE
Come with your (or your offspring's) genealogy line and create a beautiful unique heirloom family tree with acrylic and mixed media on linen paper. Learn collage techniques to adhere decorative papers, fabric, found objects, copies of documents, photographs, etc to create a tree motif as a beautiful record of your lineage. 
FASHION HISTORY AS ART INSPIRATION
Use fashion as muse in this unique class experience. Each week will focus on a different decade's flavor. Listen to music, peruse art and history books, and discuss. Then, make art! Roar into the 1920's and JUMP! out of the 1990's. Take a page from fashion designers and look back to inspire contemporary works of art. This is a discussion driven studio class rather than a technique instruction class. No prerequisites required; daring beginners welcome! Bring your own art supplies.
PORTFOLIO DEVELOPMENT FOR TEENS
Are you a young artist who wants to be taken seriously? Through peer/instructor critique take your work to the next level, building a body of art you can submit for gallery exhibition, school admission, or achieving your artistic goals. Work on writing artist statements, and learn ways to format and beef up your artist resume as well as proper avenues for work submission in various outlets. The majority of artwork will be done at home based on personalized assignments and peer feedback. Bring 3 pieces of your art to the first class, plus a sketchbook and pencil.
BOOK ARTS

PAPERMAKING
Create beautiful new paper with deckled edges from junk mail, office recycling, and scraps. Learn traditional paper making process and embellish with notions, nature, embossing, etc. Use paper for correspondence, bookmaking, or to begin works of art.
CREATING YOUR OWN HAND-BOUND SKETCHBOOKS
Explore simple book-binding techniques to create your own unique journal or sketchbook using printed and hand-made papers. Students will learn the basics of bookmaking in this unique course and create a 5-signature sketchbook or journal. A discussion of papers will be included and students will even try their hand at creating their own paper. Books will be individualized towards the student's vision and printing and collage methods will be explored to create unique covers for the finished product.
JEWELRY, ETC.
RECYCLE ART JEWELRY


Create one-of-a-kind necklaces, bracelets, earrings, glasses chains, and key chains. Use #6 plastic from to-go containers to create unique charms. Reuse decorative papers to twist beautiful patterned beads. Combine with prefab beads, broken jewelry, and findings to complete your personalized accessories.
BEGINNER JEWELRY: BEADED BRACELETS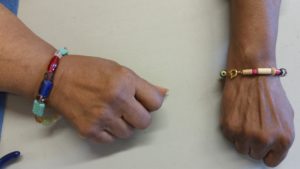 Learn how to construct simple bracelets with toggle closures. Get tips on combining colors and shapes to keep the compliments coming. Leave with two finished bracelets designed by you! If you have beads you want to use, bring them, otherwise everything is provided.
BEGINNER JEWELRY: BEADED EARRINGS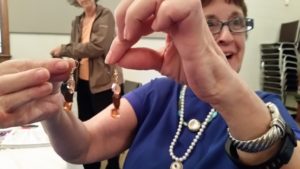 Learn how to construct simple dangling earrings with fishhook, post, or clip-on findings. Get some tips on combining colors and shapes to keep the compliments coming. Leave with two finished pairs of earrings designed and executed by you! If you have beads you want to use bring them, otherwise everything is included in the material fee.
SHRINKYDINK JEWELRY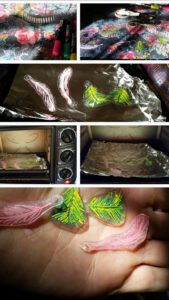 Use shrinkable film to create necklaces bracelets, earrings, rings, pendants, or key chains. In this magical process, use sharpies, paint markers and colored pencils to create colorful, icy designs. Watch as we bake the film and it shrinks to become hard. You may have used this material as a kids, but create unique personalized jewelry that has the mark of only your style, use other materials to complete amazing jewelry that will blow up your instagram feed.
CIGAR BOX HANDBAGS
Reuse a cigar box to create a unique personalized handbag. Start by collecting objects and images to build a color scheme then play with composition and pattern to cover the box with mixed media collage. Use beads, trims, ropes, or wires for handles.
MOSAICS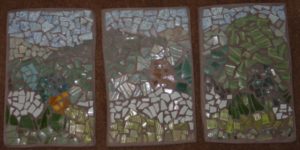 BROKEN POTTERY MOSAICS
In this class students will learn how to make a mosaic image from start to finish using the pique-assiette style of mosaics. Students will learn to design, layout, set, and grout a small mosaic for in-home decor.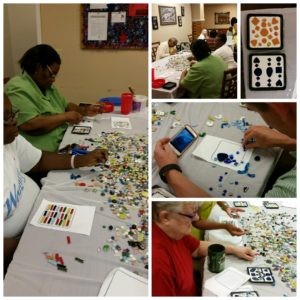 MOSAIC COASTERS: Use white indoor cement to set stained glass, ceramic tiles, hardware, and natural stones in a mold to create a one-of-a-kind coaster. Choose color scheme, lay out pattern, and transfer into wet cement to create a stylish spot to put your drink.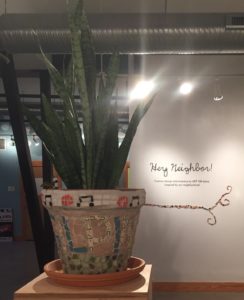 SMASHING POTS TO MAKE POTS: MOSAIC PLANTERS Learn the step-by-step process to create a decorative mosaic planter from start to finish using the pique-assiette style of mosaics. Students will design, layout, set, and grout a large mosaic flower pot or several small ones.
STAINED GLASS*
Copper Foiled Sun-Catchers
Learn the basic techniques of the copper foil method of making small stained glass windows. Learn how to design and balanced composition. Learn the proper method for cutting glass, applying foil, and getting a smooth solder.
Building Leaded Glass Windows
Design and build a leaded stained glass window. Learn important tips for designing. Cut pieces of glass to assemble your composition. Then build a structurally sound window using lead cames.
Intermediate Stained Glass: Building with a Lead Knife
This workshop is designed for folks who have already made a stained glass window. Students will learn how to use glazing knives to build windows. Throw away those tedious and frustrating lead nippers and speed up the building process with this amazing tool!
*has location restrictions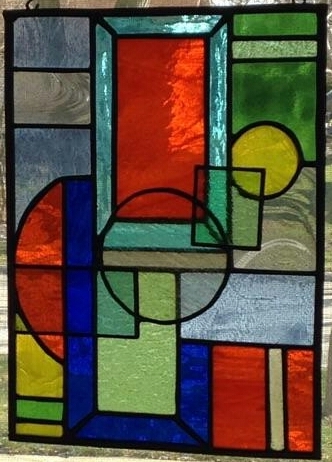 Click here to view classes for kiddos.